Here I am on our first day of the
100 Day Life Challenge
and in order to save time during the week I am menu planning. As my days are not always predictable I am not planning specific meals on specific days. The idea is to write down a list of meals and plan the night before. Keep in mind that my kids eat lunch at school so lunches during the week are predominantly what I pack for hubby and what I grab at home.
Breakfasts
-muffins(from box muffin mix)
-toaster strudel/toast
-bagels and cream cheese
-eggs and bacon
-homemade biscuits with sausage or bacon
-grits and fresh fruit
-homemade cinnamon rolls and fresh fruit
Lunch
sandwiches and chips or fruit
corn dogs and sweet potato fries
homemade hamburgers, fries
Dinners
-roast, potatoes, carrots, green beans, homemade rolls
-meatloaf, steamed veggies, baked potato, homemade bread
-spinach lasagna rolls, garlic cheese bread
-enchiladas, mexican rice, seasoned black beans
-thai pork stir fry with veggies and rice
-leftover buffet
-family movie night themed dinner (stay tuned for specifics)
While some of this stuff is homemade, the vegetables are normally canned or frozen and take no more action than to heat them up. If you have never made homemade bread I highly recommend it. Just follow the recipe and plan on making it in the morning for dinner that night. The hands-on part is not what takes so much time, it is the in-between allowing it to rise that takes a while.
I'm linking up to: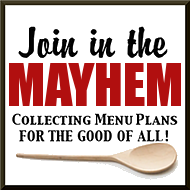 If you're interested in recipes, subscribe to our feed so that you can get updated as soon as they are posted.